A new ClubLeabhar.com series has just begun
A brand new ClubLeabhar.com series has just begun and we'll be focusing on four different works as our Book of the Month between now and December. From translations to newly written works, novels to short stories, we have a compelling mixture of books to keep you reading and discussing for another while.
The ClubLeabhar.com project is run by Gaelchultúr and funding is provided by Clár na Leabhar Gaeilge (Foras na Gaeilge). Since ClubLeabhar.com was established in late 2009 its aim has been to encourage people, both in Ireland and around the world, to read Irish language books. Individuals can become members of this online book club but we also want to encourage the members to get together in various locations, both in Ireland and elsewhere, to discuss the books featured on the site.
Each month, club members have access to English translations of the most difficult words and phrases contained in that month's book and they have an opportunity to express their opinions of the work on the site's forum. On top of that, a review podcast is made available each month, containing a lively, entertaining discussion of the Book of the Month, and sample questions are published on the forum to encourage discussion.
Special offer
This year once again, www.siopa.ie is offering a special 10% discount to readers wishing to buy all four books chosen by ClubLeabhar.com for the September-December period. Click here to avail of this offer.
September–December 2017 series
September:
Cás Aduain an Dr Jekyll agus Mhr Hyde by Robert Louis Stevenson, translated by Conall Ceárnach
The autumn series begins with Cás Aduain an Dr Jekyll agus Mhr Hyde, one of Robert Louis Stevenson's most famous literary works. The book was first translated into Irish by Conall Ceárnach in 1929 and this recent edition, published in 2014, was edited by Roibeard Ó Conaing.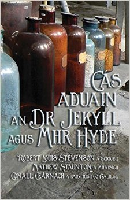 This is a terrifying story that will both astonish and frighten its readers. Forget the not-so-eerie depictions you've seen on screen and brace yourself to venture into the psychologically terrifying story of Jekyll and Hyde. Although the story itself is seemingly set in London, every single page conjures up the mysterious atmosphere of Edinburgh - the city in which Robert Louis Stevenson himself was born. Is this book a Freudian fable or is it an allegorical tale of morality, or even sexuality? It's up to you to decide.
October
I dtír mhilis na mbeo by Colm Ó Ceallacháin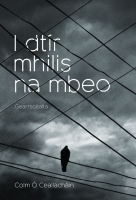 This is the first collection of short stories from Colm Ó Ceallacháin, a new voice on the Irish language literary scene. Things are not always as they seem, however. Is it the Pope we see chatting to two young boys during his tour of Ireland in 1979? Or visitors from another planet on holidays at the beach?
Certain characters develop and flourish while others descend into obscurity as old age catches up with them. Though bitter at times, we must soldier on during this sweet journey that we call life.
November
Trumptaí Dumptaí agus an Falla Mór by Ré Ó Laighléis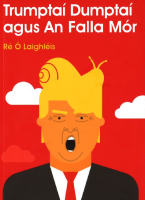 Imagine how taken aback two Galwegians, Rónán and Fionntán Ó Conghaile from Ceantar na nOileán, are when they receive a phone call from the White House to their office in Boston, Massachusetts, about Trump's plan to build a wall - a wall that will keep the hombres and the bad dudes out of the United States. Trump wants R & F Ó Conghaile Ltd to build the wall - and they will!
In this far-fetched story, Trump's strategies take many a turn as he tries to get what he wants. Little does he know, however, that an old friend of his from Dunbeg in County Clare will thwart his attempts.
Ó Laighléis perfectly combines the absurd and the eventful in these stories. Come along with us and meet Fastbender, Wallbanger, Cactus, Schniffer and many others. And don't forget to read Vertigo Angustior's "Warning Note" at the very beginning of the book.
December
Conaire Mór by Diarmuid Johnson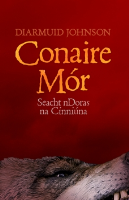 Conaire Mór is a lively and highly-readable retelling of the Old-Irish epic Togail Bruidne Da Derga - a story that begins with the crowning of Conaire and ends with his brutal slaying on the banks of the Dodder. All the wonders of ancient literature are found in this book, from Conaire's warrior feats to his ascension to the throne and to the prophecy of doom that cannot be avoided. This is a story that has not been told for almost a thousand years, but now Conaire Mór reigns again in Diarmuid Johnson's skilled retelling.
ClubLeabhar.com's forum
We're always delighted to hear your opinions on the current series of books, on the review podcasts or on literature in general on the ClubLeabhar.com forum. There's no need to worry about your grammar or standard of Irish. And, if you have any suggestions regarding the site, please let us know!